XAUTH FEATURES
our mission is provide security, so you can focus on your business.
Its very easy to install xauth and once its been installed, you no longer need any technical knowledge to maintain the security. its designed so greatly that even a simple computer user can easily use it. its design is kept very simple so Xauth can be used easily. it prevents against a wide varriety of vulnerabilities of web applications including sql injection, xss, lfi/rfi and so on. Please Scroll down for Learning About Awesome Features of Xauth.
---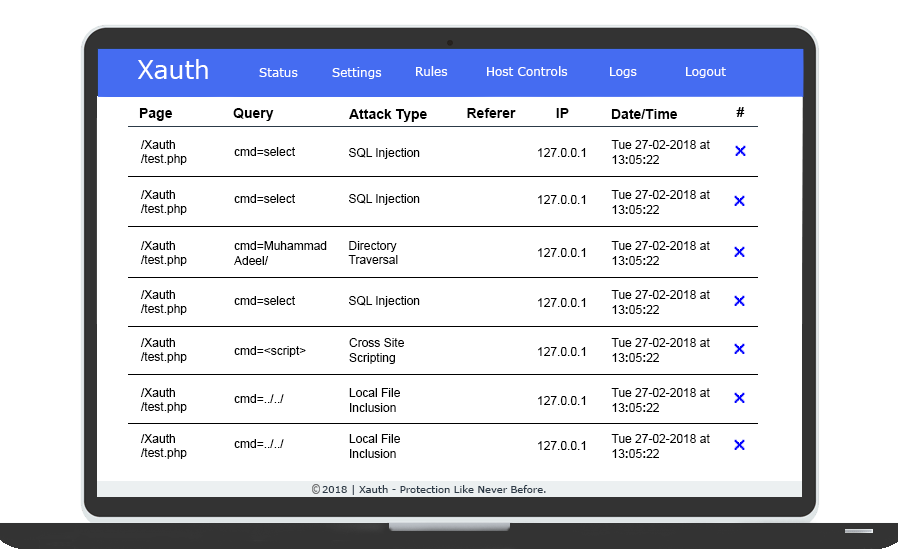 A COMPLETE WEBSECURITY SOLUTION.
Secure your online business within 2 Minutes
1. Single Line installation
2. Very Easy and Smart Configuration
3. Wide Range of vulnerabilites covered by Xauth
4. Built on core PHP
5. Very lightweight and WebApplication Friendly
RELIABLE SOLUTION FOR WEB APPLICATION SECURITY
Guaranteed by our top Security Researcher
Security
Best security Solution Available
Define Your own Security Rules
Anti Scanners, Backdoors & shells
SQL Injection
Security Against SQL injection
Protect vulnerable web applications
No Need to Patch, Automatically secures applications
Automated Scanners
Automatically Block Scanners
Web crawlers and Exploits
Filter users based on Standard Browsers
File Inclusion
Secure Local & Remote Files Loading
Protection against LFI and RFI
Filter the Files based on their names and Conventions
CSRF
CSRF Protection
Reliable and Safe tokens Generations
Enhanced Security
Log Poisoning
Secure Logs Accessiblity
Hardening the Security Around Apache
Protection for lfi/rfi to main logs access
Low Impact Vulns
Directory Traversal
Full Path Disclosure
Shells, Worms, Backdoors
Logs alerts
Complete Logs Mechanism
Filter Through Logs
Email Logs System
RCE & OSCI
Local Command Injection Protection
Remote Command Injection Protection
Static HTML & Text Injections